Physical Therapy for Knee Pain Relief
Knee pain can make daily tasks difficult, whether it's due to an injury or a chronic condition. But physical therapists can help alleviate the pain and guide patients toward recovery.
They have the expertise and training to provide effective treatment, making it possible to regain mobility and resume normal activities.
Treating Knee Pain with Physical Therapy
Effective for many conditions:
Physical therapy is a well-established and effective treatment method for reducing knee pain, including pain related to arthritis and knee cap issues.
It's cost effective:
Post-operative physical therapy is essential to help patients regain strength, mobility, and function after knee replacement surgery.
Cost-effective:
Physical therapy can be cost-effective in the long run, as it aims to treat the underlying cause of your condition and prevent future problems.
Comprehensive approach:
Physical therapists take a holistic approach to treatment, examining not only the affected area but also surrounding muscles, joints, and other factors. This can lead to more effective pain relief.
Expert care:
You can trust a physical therapist to effectively treat your knee pain due to their training and experience.
More about Knee Pain
Visit our Medical Library for:
Root Causes of Knee Discomfort
Visual Aids for Enhanced Clarity
Potential Remedy Approaches
Extra Online Health Resources for Further Information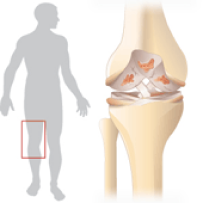 NOTE: Physical therapy may not be for everyone, such as those who have a history of cancer, or severe systemic or neurological conditions; those who have experienced recent/significant unexplained weight loss, have structural deformities, have experienced a recent trauma resulting in fractures, or those who have used steroids.
The information provided on our website is intended solely for informational and educational purposes and is not meant to be a substitute for professional medical advice, diagnosis, or treatment. The information on our website should not be used to make a diagnosis or to replace or overrule the judgment of a qualified healthcare provider.