Physical Therapy for Back Pain Relief
Are you experiencing discomfort or pain in your back? Does it make it difficult for you to raise your arm or perform daily activities? If so, you should consider seeing a physical therapist.
Appropriate physical therapy treatment can help to reduce your pain and improve your shoulder function, making it easier for you to perform your daily activities and enjoy your life.
Positive Outcomes of Physical Therapy
It's proven effective:
x Although the outcome of treatment may vary, it is possible for some individuals to obtain substantial relief from pain after only a few physical therapy sessions.
Totally Safe:
In many cases, physical therapy can offer a safe and effective alternative to surgery for treating a variety of musculoskeletal conditions.
Time-saving:
If you need to see a physical therapist, you can expect to get an appointment quickly, often within a day or two.
Cost-effective:
Active participation in physical therapy can lead to improved treatment outcomes, reduced need for prescription drugs, fewer MRIs, and fewer injections in the lower back.
personalized solution for long-term results:
A physical therapist will evaluate your injury or condition and develop a personalized treatment plan to address your specific needs. This approach not only helps alleviate symptoms but also works to prevent future injuries, ensuring long-term health.
More about Lower Back Pain
Visit our Medical Library for:
Insights into Lower Back Discomfort
Visual Guides for Enhanced Understanding
Potential Therapies
More Links to Online Health Resources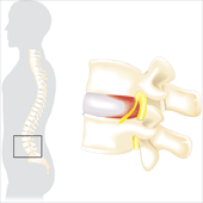 NOTE: Physical therapy may not be for everyone, such as those who have a history of cancer, or severe systemic or neurological conditions; those who have experienced recent/significant unexplained weight loss, have structural deformities, have experienced a recent trauma resulting in fractures, or those who have used steroids.
The information provided on our website is intended solely for informational and educational purposes and is not meant to be a substitute for professional medical advice, diagnosis, or treatment. The information on our website should not be used to make a diagnosis or to replace or overrule the judgment of a qualified healthcare provider.