Physical Therapy for Arthritis Relief
Physical therapy is an effective solution for those experiencing arthritis pain that can limit their daily activities. With proven benefits for relieving pain and improving function, physical therapy is a safe alternative to other treatments that may cause serious side effects.
By working with a physical therapist, you can improve mobility and quality of life, regardless of the area affected by arthritis.
Clinically proven to relieve pain:
According to recent research, hands-on physical therapy may be a beneficial treatment option for improving pain, joint mobility, and range of motion.
It's an option you should try first:
Professional organizations and medical associations worldwide endorse physical therapy as a standard treatment for arthritis.
Recommended as a first-line treatment:
Your physical therapist will work with you to create a program that is tailored to your specific needs and limitations.
Physical therapists are highly trained:
Physical therapists have specialized knowledge and expertise in managing movement disorders, including arthritis.
Improves overall quality of life:
Physical therapy can help you improve your physical abilities such as strength, flexibility, and endurance, leading to a better quality of life.
More about Arthritis
Visit our Medical Library for:
Comprehensive Arthritis Overview
Supplementary Online References
Potential Therapeutic Approaches
Visual Aids for Enhanced Understanding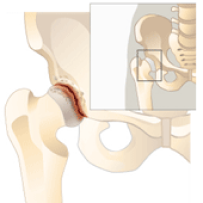 NOTE: Physical therapy may not be for everyone, such as those who have a history of cancer, or severe systemic or neurological conditions; those who have experienced recent/significant unexplained weight loss, have structural deformities, have experienced a recent trauma resulting in fractures, or those who have used steroids.
The information provided on our website is intended solely for informational and educational purposes and is not meant to be a substitute for professional medical advice, diagnosis, or treatment. The information on our website should not be used to make a diagnosis or to replace or overrule the judgment of a qualified healthcare provider.